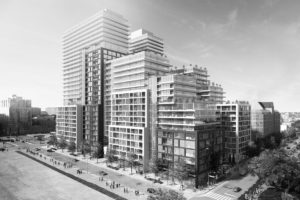 Hi There,
I hope you are doing well.
Today I have some EXCITING news for you!
I am a VIP Realtor with many of the pre-construction condo builders in the Greater Toronto Area.
As such, I often get access to special DISCOUNTS and builder INCENTIVES whenever a new condo project is being constructed.
This results in TENS OF THOUSANDS of dollars made by my clients who purchase in the early stages of the condo development.
I am excited to let you know that a MAJOR development will be coming soon to Downtown Toronto called, "Time and Space Condominiums".
Time and Space Condominiums – FAST FACTS
Time and Space Condominiums is coming to Front and Sherbourne Streets, and is situated between Toronto's historic St. Lawrence Market and The Distillery District.   Pemberton Group presents Downtown Toronto's most-anticipated condominium community – Time and Space.
Encompassing an entire Toronto city block, Time and Space will transform this historic location and offer residents a vibrant future. Ranked the best city to live in globally according to The Economist, Toronto is Canada's largest city and the third largest in all of North America. Home to one of the most diverse populations in the world (approximately 2.8 million people), Toronto is a global centre and attraction for business, finance, arts, culture, and sport.
An estimated 125,000 new residents immigrate to the City of Toronto on an annual basis. In 2016, 80,000 people between the ages of 20 and 40 (from other regions of Ontario) had moved to The City, primarily seeking employment in the City Centre. In 2016, approximately 511,200 jobs were located in Toronto's Downtown.   85% of all jobs are located within the five Toronto centres (Downtown, North York, Scarborough, Yonge/Eglinton, Etobicoke).
The office category is Downtown's largest, accounting for two of every three jobs. The office area south of Front Street has the largest concentration of office employment outside of the Downtown Core and North York Centre. With the concentration of jobs in this area, many professionals opt to live in close proximity to their workplace, ideally within minutes. Available inventory in Toronto currently sits at approximately 11,000 units, representing half of the supply required for the massive migration to the City Centre. Today, the average detached home in the City of Toronto sells for over 1.35 million dollars — unaffordable for most people and families.
As more and more buyers are priced out of the market for single-family, detached homes in the City of Toronto, buyers are pursuing alternatives in the condo market in the City – either to rent or own. Within a five-minute drive radius from Time and Space, there have been 91 resale and 111 lease transactions within the past two months alone. This bustling activity is a testament to the desirability of the neighbourhood.
Time and Space is located in one of the trendiest neighbourhoods in the Greater Toronto Area, and is well-positioned to take advantage of the local transportation hub and tourist hot spots. Within minutes' walk to Union and King Subway Stations, Time and Space boasts an impressive Transit Score of 100/100, Walk score of 99/100, Bike Score of 95/100. Recently, there has been a $1.5 billion investment in Toronto's Waterfront community.
This ideal combination of exponential growth in demand, limited supply of condominiums, and a continued development of new infrastructure in the St. Lawrence Market and Distillery areas will help propel a price and rental appreciation for properties in this neighbourhood in the upcoming years. Time and Space is situated in this nucleus, and suite owners in this iconic community will stand to experience and benefit from this intensification.
Time and Space Condominiums – Building Features
10 Storey Podium
Two 29 Storey Towers
Ground Floor Retail
67,000 SQFT Amenities
Public Park / Courtyard
Time and Space Condominiums – Suite Features
Four-pipe fan coil for year-round control of heating and cooling.
7½" Laminate flooring for foyer, living/dining, bedroom and den
Semi solid interior doors complete with brushed chrome lever handle, as per plan.
Smooth finish ceiling – height of 9' in principal rooms excluding mechanical bulkheads.
Ceiling light fixture in bedrooms.
Stacked washer and dryer-27", front loading.
Quartz window sills.
Stainless Steel Appliances and custom kitchen cabinetry
Undermount cabinet lighting
Frameless Glass Shower
Time and Space Condominiums – Units, Square Footage, and Available Levels
ONE BEDROOM (440 to 540 square feet).  Levels Available: 3 to 29
ONE BEDROOM AND DEN – 1 BATH (495 to 590 square feet).  Levels Available: 3 to 29
ONE BEDROOM AND DEN – 2 BATH (570 to 710 square feet). Levels Available: 3 to 29
TWO BEDROOM (665 to 790 square feet).  Levels Available: 3 to 29
TWO BEDROOM PLUS DEN (760 to 855 square feet). Levels Available: 3 to 29
THREE BEDROOM (785 to 930 square feet)  Levels Available: 3 to 29.
Time and Space Condominiums – Deposit Structure
$5,000 on signing of Agreement
Balance to 5% in 30 days
5% in 120 Days
5% in 425 Days
5% on Occupancy
Time and Space Condominiums – Occupancy Dates
East Tower – November 16th 2020
West Tower – May 18th 2021
The Good News
There is going to be incredible demand for this new condo project once it is released.
There will be an opportunity for you to purchase a suite here, and PROFIT big time.
By the time the condo towers are ready in 2020 and 2021, the value of your unit will have gone up significantly in value.
The reason for this is simple.
Supply and demand my friends.
The number of people coming into the Greater Toronto Area every year far surpasses the available housing inventory.
THE SUPPLY IS NOT ENOUGH TO MEET THE DEMAND
This Is What You Need To Do NOW!
If you are interested in purchasing a suite in this new condo development, please let me know as soon as possible (ASAP!!!)
Once that you have expressed your interest, I will contact you closer to when the suites are being released.
That way, you will ensure that you are able to secure a unit before they sell out.
And sell out they will.  These suites will go fast…
Email me direct at neil@firstrentalproperty.com
Happy Investing!
Neil
ps: I am a VIP Realtor in The Greater Toronto Area.  I help people invest in pre-construction condos and new condo projects.  To get access to ALL of the latest projects, sign up for my newsletter today!