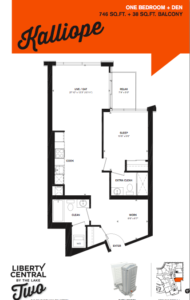 Hi There,
If you are familiar with Toronto, you probably know some of the neighbourhoods in Toronto as well.
There are some really popular neighbourhoods and some neighbourhoods that are less well known.
One neighbourhood in Toronto that is very well known and popular to live in is Liberty Village.
According to Wikipedia…
Liberty Village is a neighbourhood in Toronto, Ontario, Canada.  It is bordered to the north by King Street West, to the west by Dufferin Street, to the south by the Gardiner Expressway, to the east by Strachan Avenue, and to the northeast by the CP railway tracks…Liberty Village is located on one of Toronto's oldest Settlements.
If you are at all familiar with Liberty Village and have been there before, you know that the neighbourhood is not as boring as the Wikipedia definition.
On the contrary.  It is an entertaining place, full of people and vibrant places.
The Top 10 Places In Liberty Village
The top 10 places in Liberty Village according to BlogTO, by reader 'Rating' are…
Liberty Commons At Big Rock Brewery
Now that you know about the 'top ranked' places to go when you are in Liberty Village, let's talk real estate…
Liberty Central By The Lake (Vital Stats)
Here are some major details about this development that you should know, if you are interested in purchasing a unit there (more on that later)
SUITES AVAILABLE: 1 Bedroom plus Den, 2 Bedroom
PRICE (RANGE) AVAILABLE: $411,900 to $449,900
SQUARE FOOTAGE (RANGE) AVAILABLE:  746 square feet to 802 square feet
EXPOSURES AVAILABLE: East, West, South West
FLOORS AVAILABLE: 3, 4, 5.
PRICES INCLUDE: H.S.T. (What is HST?)
PARKING: $45,000
LOCKER: $5,000
MAINTENANCE FEE: $0.55 per square foot.  (Excludes: Individual Hydro Metering, water, parking, locker, taxes.)   (Includes:  Building insurance, snow removal, reserve fund, landscaping and maintenance, natural gas plus common area hydro.) 
PROPERTY TAXES: Estimated at 1% of the purchase price per annum.
OCCUPANCY DATE: January 2019
DEPOSIT STRUCTURE:
Total 21%.  
$5,000 payable on signing.  
Balance to 5% of the purchase price in 30 days.  
5% of the purchase price – 90 days from Agreement date.
5% of purchase price – 370 days from Agreement date.
5% of purchase price – 470 days from Agreement date.
1% of purchase price upon occupancy.
Liberty Central By The Lake (Cool Description)
Here is a pretty catchy description of this new condo project taken from the Builder's website…
"Designed to take full advantage of its lakeside location, Liberty Central is for those who live for a spectacular view in Toronto's most sought after neighbourhood, Liberty Village. The mixed-use development is part of CanAlfa's master-planned residential community. The building takes impact from street level up, with a four-storey podium that includes a main lobby, retail spaces and a fully landscaped and amenity-filled rooftop terrace. While there are plenty of leisures to explore inside, you'll also be south of King Street West, within walking distance of restaurants, boutiques and daily essentials, as well as minutes from the downtown core and Lake Ontario. For those who appreciate a strong community, soaring view of the skyline or the easterly views of local parkland, this is the place for you."
Sounds pretty awesome, doesn't it?
Well, in my opinion, it is awesome… and here is why…
Reason #1 Why Liberty Central By The Lake is awesome…
The builder for this pre-construction condo is a group called CanAlfa.  If you are not familiar with real estate, or builders in Toronto, you might be wondering…"Who the heck is CanAlfa?  The name sounds like some sort of hair product for men!"
Don't be fooled by the name my friends.  Take a look at what CanAlfa has built in Toronto…
Their portfolio includes developments such as:
Toronto's Scotia Plaza
Waterpark Place
10 and 20 Bay Street
Liberty Central by the Lake joins their portfolio of properties — Liberty Urban Towns, Liberty Towers, Bliss, Liberty on the Park and Liberty Place.
So as you can see, this Group has already built some 'big time' projects in Toronto.  You may not be familiar with their name.  If you are not, that doesn't matter.
They have a proven track record in the City of Toronto.
In summary, Reason #1 why I love this new condo project is because the builder has already done major projects in the City and they are very experienced.
Reason #2 Why Liberty Central By The Lake is awesome…
I really like their floor plans.  The units are big and there is sufficient square footage in each unit, especially when you compare the Floor Plan Layouts to other competing new condo projects in the City.
The builder definitely did not skimp out when designing these Floor Plans.  The units are comfortable in size and fit for a King.  Well.. not really fit for a King, but you get the picture.  The floor plans are well thought out and I like them.  Which means that a lot of other people will like them as well.
Here is a floor plan for the "Kalliope".  This is a 1 Bed + Den.  746 square feet plus a 38 square foot balcony.  The image is a bit small, so feel free to "zoom in" to take a better look.
If you want me to send you a PDF version of this floor plan, send me an email at neil@firstrentalproperty.com and I would be happy to send it to you.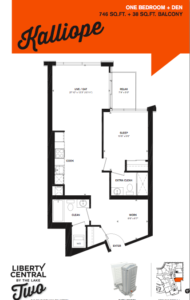 The Offer…
So basically, we have established (if you did not know already) that Liberty Village is AWESOME and people want to LIVE there.
Whenever you find an awesome place in Toronto where people want to live, one thing is for certain…
There will be competition for the real estate there.  Prices will be driven up, and there will likely be multiple offers on listings.
Liberty Central By The Lake is an awesome building where a lot of people want to live.  There will be a lot of demand for these units, and there already has been.  That is the bad news.  However, I have some good news as well…
The Good News…
I am a VIP Realtor in The Greater Toronto Area. This means that I have front of the line access to over 100+ new construction condo projects in Toronto.
Liberty Central By The Lake is one of them.
What This Means For You…
This VIP Access  allows me to help people bypass all of the chaos (multiple offers, no financing or home inspection conditions on offers) of the re-sale market in Toronto.
We focus our efforts on the new condo market where you can purchase a property directly from the builder and avoid all of the mess and chaos happening in Toronto market, due to the incredible rise in value that this market is experiencing.
If you are interested in purchasing a unit at Liberty Central By the Lake, you should contact me today at neil@firstrentalproperty.com
I will be able to introduce you to the builder and reserve you a unit that you can purchase.
Here is the Catch…
If you are interested, you have to move quickly.  In a recent conversation I had with the builder, they told me that the building would be sold out soon.
I believe that this is true, based on the desirable location of Liberty Village, and based on the overall lack of inventory in the Toronto market.
Email me today, and let's get you a unit.
Happy Investing!
Neil
neil@firstrentalproperty.com
ps: I have been personally investing in Toronto real estate since 2005.  If you are interested in buying a condo in Toronto for investment (or to live in), we should talk.