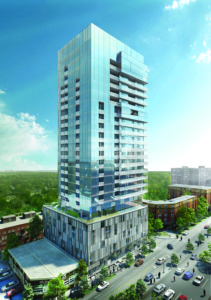 Hi There,
I hope all is well on your end.
Today, I would like to tell you about a new condo project that is being developed in Burlington, Ontario.
If you don't know, Burlington is a neighbouring City to Toronto, and is located within the Greater Toronto Area.
By definition, Burlington is a City in The Regional Municipality of Halton at the northwestern end of Lake Ontario.
Just like in Toronto, the real estate values in Burlington are very strong and have been rising over the past several years.
With the rise in values, this has opened up opportunity for high rise condo builders to come into the City and build a number of pre-construction condo projects.
The name of the new condo project is:
NAUTIQUE Lakefront Residences In Burlington
The #1 aspect that I like about this project is that it is located on the shores of Lake Ontario.  
If you live in a City or Town on the water, you know how amazing the Lake, Ocean, or Sea views can be.
You don't even have to live in a waterfront community to imagine how amazing the scenery is.
So let's get into it.
I am going to give you some Key information regarding this pre-construction condo development.
UNITS AVAILABLE: 1 Bedroom and 1 Bedroom + Media Units
FLOORS AVAILABLE: 8, 10, 19
PRICE (RANGE) AVAILABLE —-> NOTE: THESE ARE DISCOUNTED PRICES FOR VIP AGENTS (more on that later):  $393,490 to $424,490
EXPOSURES AVAILABLE: North (City View), North East (City View), West (Partial Water View).
SUITE SIZE: 503 Square feet to 664 square feet.
BALCONY SIZES (RANGE): 37 square feet to 44 square feet.
SPECIAL EXTENDED DEPOSIT STRUCTURE:
$5,000 on signing
Balance of 5% in 30 days
5% in 120 Days
5% in 370 Days
PARKING: One parking spot is included in the purchase price.  
ADDITIONAL PARKING SPOT: $59,900
STORAGE LOCKER: $3,500 (Wait List)
MAINTENANCE:
For Suites 400 to 599 square feet —> $0.63 per square foot
For Suites 600 to 799 square feet —> $0.57 per square foot
For Suites 1,000 to 1,399 square feet —> $0.48 per square foot
For Suites larger than 1,400 square feet —> $0.46 per square foot
TAXES: Estimated at approximately 0.88% of Purchase Price.  
BUILDER: ADI Development Group
OCCUPANCY COMMENCING: November 2018
As a VIP Realtor with most of the Builders in The Greater Toronto Area, I get access to Insider pricing and Insider incentives offered by the builder.  
Through my VIP Access, I was recently able to offer purchasers $10,000 Off of their purchase price with Vita On The Lake by Mattamy and a $10,000 Furniture Package with EMPIRE.
If you have any questions about NAUTIQUE Lakefront Residences in Burlington, feel free to email me directly at: neil@firstrentalproperty.com
Happy Investing!
Neil
ps: To save thousands on your purchase, and to get access to our insider pricing and insider incentives, sign up today to our newsletter.  We will let you know about all of the pre-construction condos in The Greater Toronto Area as soon as they are launched, so you can get ahead of the line!
pps: Here are some more pictures of Nautique Lakefront Residences in Burlington…