The Power of Leverage In Real Estate
If you're new here, you may want to subscribe to my RSS feed. Thanks for visiting!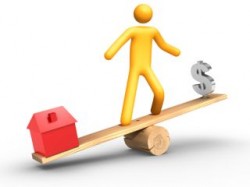 Hi Friend,
I hope you are doing well.
If you are just starting out in the real estate investing game, you are probably learning about the concept of Leverage.  You are also probably trying to figure out if leverage is good or bad.
The power of leverage in real estate is a great thing, and leverage should be used in order to buy rental property.
A common question that I get asked by new real estate investors is:
Am I able to use the equity in my home in order to buy a rental property?
A follow up question that I get asked after this initial question is:
"How do I do this?"
For starters, it all depends on where you live.  The rules imposed by Lenders differ depending upon which Country, Province, State, or Territory you live in.
If you reside in Canada, then you should know that most Lenders (Banks) will allow you to Leverage your principal residence (property you live in) up to 65%, 80% or sometimes even higher.
The percentage in which the Lender will allow you to Leverage your property depends upon the lending product that they are providing you with.
For instance, the percentage in which your principal residence can be leveraged will vary if you are requesting from your lender a 'secure line of credit' or if you are requesting a 're-finance'.
A question that experienced real estate investors begin to ask is:
Can I refinance one rental property in order to buy more?
The answer to this is YES.
Refinancing existing rental properties is a great way in order to purchase more rental properties.  This strategy is used by many successful real estate investors.
Bringing it back to basics, as a new real estate investor you need to determine if you have enough equity in your principal residence in order to leverage it so that you can buy your first rental property.
Don't delay. The Power of Leverage is an amazing thing.  It can help make your dreams of buying a rental property reality faster than you ever thought possible!
Happy Investing!
Neil Uttamsingh
ps: I am an experienced Real Estate Investor and  licensed Realtor.  I help people like you everyday purchase their first rental property.  If you have any questions or are looking to buy a rental property, feel free to get in touch with me.  Send me a note at NEIL@FIRSTRENTALPROPERTY.COM and I will help guide you through the process!